Wilhelm Ritter was a Schattenjäger living in Schloss Ritter.
Background
Edit
He was the father of Wolfgang Ritter and Harrison Knight. He took care of his sons in the early 20th century up to around mid-1920s. At some point after 1925, Heinz Ritter came to american, and changed his name to Harrison.
Day 1, Gabriel moves a clock from on top of a chest to a nearby chair in Rebecca Knight's attic. After fiddling with it, and its learning its secret (then turning the winding key), he opens it. Inside, he learns about Wilhelm Ritter from a photo hidden in a secret compartment. It showed Wilhelm with his sons Heinz and Wolfgang at Schloss Ritter in 1925. He also finds a letter (Clock Letter) addressed to his son Heinz, it was urgent and discussed the Schattenjägers.
The clock can be opened anywhere between Day 1 and Day 4. It must be opened by Day 4 in order to confirm Wolfgang's identity, and return a call to him. The official hintbook states it was opened on Day 1. The clock can also be opened on the chest, or moved over and opened on a nearby old parlor table.
20th Anniversary Edition
Edit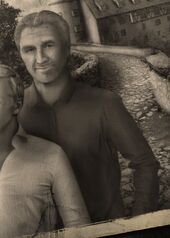 Day 4, finally visiting his Gran at her insistance (she had been wanting him to stop by from at least Day 1, but he kept putting it off), he discovers the clock on a small parlor table in the attic. After discovering the key in the nearby chest, and finding the secret compartment inside the clock, he finds the photo inside of the clock, and learns about Wilhelm Ritter the father of Heinz and Wolfgang Ritter. He confirms identity of Heinz as his grandfather Harrison, and that Wolfgang is his uncle, and decides to return Wolfgang's calls.
Other than some timings of events in the game of when Gabriel discovers the clock letter and photo, and some alternate imagery in the photo itself concerning the appearance of Schloss Ritter in 1925, there is very little difference in the actual backstories between both versions of the games. There are some other cosmetic differences as far as Wilhelm's hair style, and the tailoring style of his clothes.
Personality and traits
Edit
There is a sense of urgency in his handwriting and in the heavy use of a quill tip, bold strokes, and underlining.
Wilhelm is shown to wear dark or black clothing. In the original he seems to wear black priest-like shirt with a high neck collar. He parted his hair to one side. He doesn't appear to have a smile, but a determined look (perhaps even a hint of a frown).
20th anniversary edition
Edit
He wore dark button-up shirt with open collar. He parted his hair down the middle. He had a warm smile.
Behind the scenes
Edit
In the Gabriel Knight: Sins of the Fathers (novel), his name is Karl Ritter.
Ad blocker interference detected!
Wikia is a free-to-use site that makes money from advertising. We have a modified experience for viewers using ad blockers

Wikia is not accessible if you've made further modifications. Remove the custom ad blocker rule(s) and the page will load as expected.