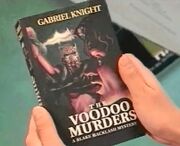 The Voodoo Murders is a bestselling novel that Gabriel Knight wrote after his experience with the Voodoo Murders case and made him an international star reaching #20 on the New York Bestsellers list by 1996.
It details the events down to a tee but with some minor differences:
Gabriel Knight is known as Blake Backlash.
Grace Nakimura is known as Fujitsu or "ole Fuji" and is seduced by Blake (although Gabe failed it with Grace).
Dectective Franklin Mosely is known as Detective Mostly, who is fat and bald.
Ad blocker interference detected!
Wikia is a free-to-use site that makes money from advertising. We have a modified experience for viewers using ad blockers

Wikia is not accessible if you've made further modifications. Remove the custom ad blocker rule(s) and the page will load as expected.