Background
Edit
The cemetery is divided into three sections. Starting at the entrance, the Gedde Tomb area lies to the northeast of the entrance, and Wright Tomb lies northwest of the entrance. The Wright Tomb appears to lie further in northwest of the Gedde tomb (the screens interact sort of like a 'triangle').
Locations
Edit
Entrance (Laveau's Tomb)
Edit
Laveau Tomb
Sky
Brick
Plants
Offerings
Vase (x2)
Fence
Statue (x3, two different messages)
Plaque (leads to closeup)

Plaque

Markings (leads to closeup on later day)
Angel
Plants
Tomb (x9, four different messages)
Gedde Tomb
Tomb (x8, 6 different descriptions)
Switch
Angel Statue
Door
Gedde Angel Statue
Vase
Gedde Tomb (inside)
Edit
Ossuary (leads to closeup)
Drawers (x9, assorted names)
Broken Glass
Back Wall
Broken Bulb
Button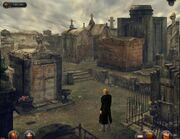 Day 2, Gabriel doesn't feel like visiting the old family tomb.
Wright Family Tomb
Fence
Tomb (x2, two different descriptions)
Statue
Snake Statue
Franklin Plaque
Meryl Plaque
Harley Plaque
Harrison Plaque
Philip Plaque
Margaret Plaque
Vase
Ad blocker interference detected!
Wikia is a free-to-use site that makes money from advertising. We have a modified experience for viewers using ad blockers

Wikia is not accessible if you've made further modifications. Remove the custom ad blocker rule(s) and the page will load as expected.