Background
Edit
Day 1, Gabriel visits the cathedral, but finds the sanctuary empty, and both confessionals occupied.
On Day 3, Gabriel decides to give confessions at the cathedral. He went into the booth and confessed to many sins, but his biggest was his on his history of womanizing. After explaining his past to the priest, the priest says there aren't enough rosaries to get forgiveness for his infidelities. He runs off, leaving the priest confessional booth empty. Gabriel uses the opportunity to enter and steal a priest collar. He also listened to a few confessions from other people as well.
On Day 4, Gabriel sees Crash enter the sanctuary from Jackson Square Overlook (GK1HD).
Locations
Edit
Sanctuary
Edit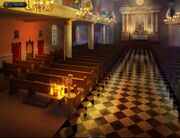 Pews (doesn't appear with 'hotspot' look, but only with mouse over)
Pew (Day 4)
Confessional (x2)
Flags
Altar
Cherub
Confessional (x2)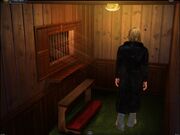 Confessional (right)
Edit
Confessional
Window
Shelf
Kneeler
Knothole
Priest Confessional
Edit
Priest Confessional
Window
Box (closeup)
Characters
Edit
Ad blocker interference detected!
Wikia is a free-to-use site that makes money from advertising. We have a modified experience for viewers using ad blockers

Wikia is not accessible if you've made further modifications. Remove the custom ad blocker rule(s) and the page will load as expected.