The New Orleans Police Department (aka Police Station) is New Orleans Police Department in Gabriel Knight: Sins of the Fathers - 20th Anniversary Edition. It is listed as "Police Station" on the map, and New Orleans Police Department on the entrance façade.
Locations
Edit
Police Station
Other Building
Window (x6)
Police Motorcycles
Car (leads to closeup)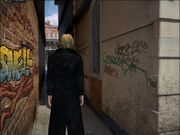 Graffiti
Mosely's Office Window
Other Building
Portrait
Garbage Can
Counter
Gate
Thermostat
Bulletin Board
Copier
Mirror
Camera
Inbox
Microwave
Filing Cabinet (x2)
Window (to Alleyway)
Window (two-way mirror)
Coffee Cup
Desk
Chair (visitors)
Chair (Mosely's)
Bookcase
Bulletin Board
Books
Phone
Wall
Characters
Edit
Frick
Franks
Tony
Drummer (Appears on Day 3)
Girls (Appears on Day 5)
Ad blocker interference detected!
Wikia is a free-to-use site that makes money from advertising. We have a modified experience for viewers using ad blockers

Wikia is not accessible if you've made further modifications. Remove the custom ad blocker rule(s) and the page will load as expected.