Locations
Edit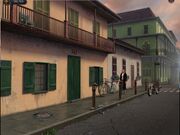 Madame Cazaunoux's House
Windows
Building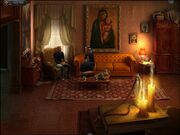 Painting
Chair
Jewelry Box
Coffee Table
Rosary
Candles
Wall
Cabinet
Plant
Lamp
Tea Set
Couch
Castro
Snake Bracelet (closeup)
Behind the scenes
Edit
There is a mistake in the parlor. The painting describes an old lady's image, but the image in the HD remake appears to be a landscape scene. In the original there actually was a woman in the painting.
Ad blocker interference detected!
Wikia is a free-to-use site that makes money from advertising. We have a modified experience for viewers using ad blockers

Wikia is not accessible if you've made further modifications. Remove the custom ad blocker rule(s) and the page will load as expected.