Background
Edit
Location popular for celebrating St. John's Eve.
Locations
Edit
Bayou Exit
Edit
Clearing Entrance
Edit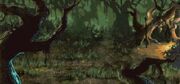 Ritual Clearing
Edit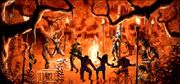 Behind the scenes
Edit
In the remake the ritual screen is completely removed, instead the ritual is portrayed through graphic novel style animated cutscene. In the original there are flashbacks to the intro cutscene, and bits of animated graphic novel, but its mainly portrays fully animated clearing scene.
Ad blocker interference detected!
Wikia is a free-to-use site that makes money from advertising. We have a modified experience for viewers using ad blockers

Wikia is not accessible if you've made further modifications. Remove the custom ad blocker rule(s) and the page will load as expected.